Smart Radio LTE Failover: System Overview
System Overview
The system which we will demonstrate is shown in Fig. 1.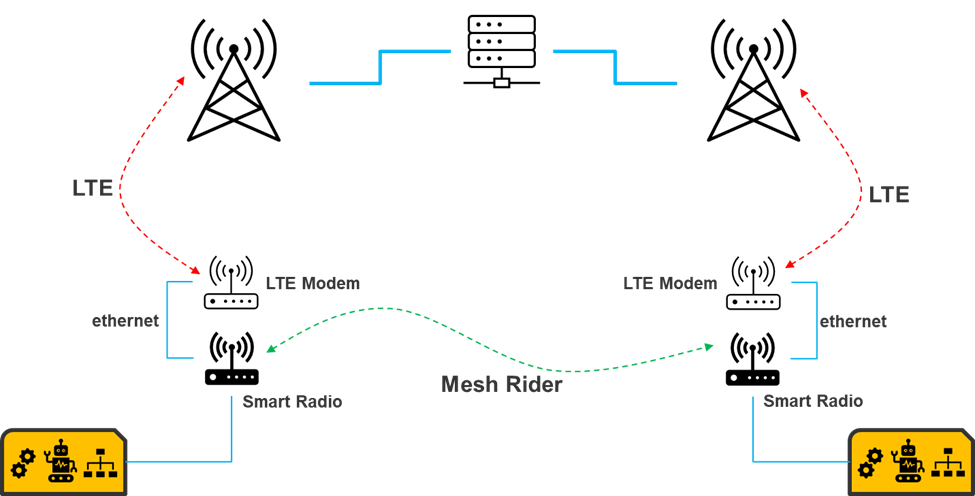 Fig. 1 – LTE Failover System
SIM Cards
In this demonstration, we use SIM cards that support Internet of Things and M2M connectivity. The LTE service provider should be able to provide a private network for connected SIM cards which allows all devices to be addressable from one another over the LTE network. This is important because typical consumer LTE SIM cards only provide a private IP address which is not addressable over the internet.
LTE Modem
For this demonstration, we used the gl-inet Mudi LTE modem [2]. There are many brands of Industrial IoT LTE modems available. Smart Radio LTE Failover should work with them. We do not intend to make a recommendation on any particular LTE modem, but be careful to choose an LTE band suitable for your region of deployment, and a modem which supports sufficient throughput for your application. Aside from that the modem should support network port forwarding.
Routing
The Smart Radio relies on Mesh Rider for layer 2 packet routing, and the same is true for LTE failover. We use a VPN (WireGuard) with a L2TP tunnel to establish a layer 2 pseudowire connection between the two radios over the LTE link. ETH1 is used for the failover link.

​

Related Articles

Smart Radio LTE Failover: Introduction

Introduction This application note describes how to use LTE as a failover for the Smart Radio's Mesh Rider wireless link. Smart Radio LTE Failover is an optional add-on license to the Mesh Rider OS to create highly resilient private wireless ...

Smart Radio LTE Failover: Testing

Testing As a first test, we performed a hard disconnect on the Mesh Rider signal while pinging one radio from the other. The ping was performed at a 1 second interval with a 1 second timeout. From the results, only one sequence number was missing ...

Smart Radio LTE Failover: Device Configuration

Device Configuration In our example, we assume that we have PC 1 connected to Smart Radio 1 at ETH0, and Smart Radio 1 is connected to LTE Modem 1 from ETH1. Likewise, PC 2 is connected to Smart Radio 2 at ETH0 and Smart Radio 2 is connected to LTE ...

Smart Radio LTE Failover: Hardware Setup

Hardware Setup Fig. 2 shows the hardware setup used in this guide. Fig. 2 – Hardware Setup Of note is that ETH1 should be connected to the LTE Modem. Aside from that, the Smart Radio is setup for typical usage.​

2. System Overview

System Overview Fig. 1 shows the default network configuration of the Smart Radio. The radios are pre-configured so that the entire Mesh Rider network acts like one big distributed Ethernet switch. Therefore, devices plugged into Mesh Rider will ...