Smart Radio LTE Failover: Testing
Testing
As a first test, we performed a hard disconnect on the Mesh Rider signal while pinging one radio from the other. The ping was performed at a 1 second interval with a 1 second timeout. From the results, only one sequence number was missing (sequence #9) indicating that the failover time is about 1 to 2 seconds. The latency on the LTE link was more than 100ms while the Mesh Rider's latency was around 2ms. The results are shown below.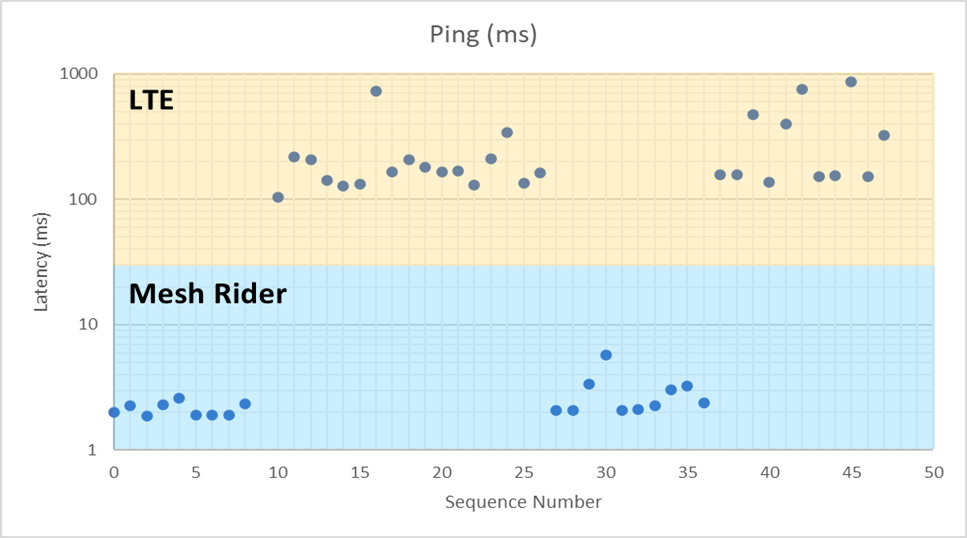 Fig. 3 Mesh Rider LTE hard failover ping test
We also ran a test to check the failover and recovery of the network when the nodes are moving away from each other and the Mesh Rider signal strength is gradually descreasing. The RSSI and IFACE is plotted on the primary axis of Fig 4. When the IFACE value is high, it means that the Mesh Rider interface was being used, and when the IFACE value is low, it means the LTE interface was being used. In the experiment, 10 dB attenuators were added to each radio to reduce the scale of the test. As can be seen, at lower RSSI values, the network fails over to LTE and then recovers again to use the Mesh Rider. This illustrates the added resiliency in the network by using the best of the interface available at any time.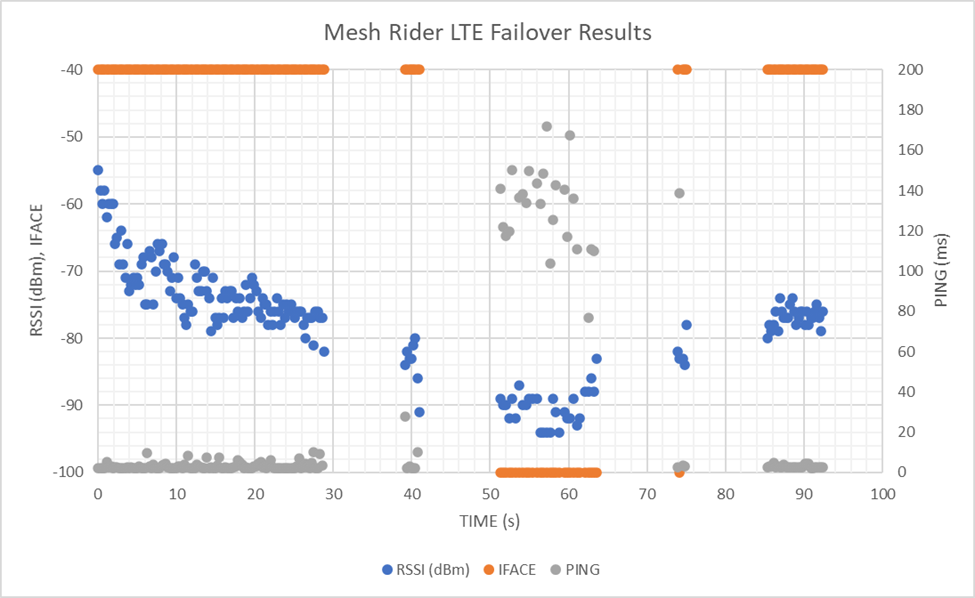 Fig. 4 – Failover Results
References
[1] M2MOne, https://www.m2mone.co.nz/, 14 June 2021
[2] Gl-inet Mudi, https://www.gl-inet.com/products/gl-e750/, 14 June 2021
[3] Installing Wireguard on Routers Running Openwrt and Luci, https://www.azirevpn.com/support/guides/router/openwrt/wireguard, 14 June 2021
[4] OpenVPN, https://openvpn.net/, 14 June 2021
[5] WireGuard, https://www.wireguard.com/, 14 June 2021
[6] Linux L2TP ethernet pseudowires, https://remote-lab.net/linux-l2tp-ethernet-pseudowires, 14 June 2021
Related Articles

Smart Radio LTE Failover: Introduction

Introduction This application note describes how to use LTE as a failover for the Smart Radio's Mesh Rider wireless link. Smart Radio LTE Failover is an optional add-on license to the Mesh Rider OS to create highly resilient private wireless ...

Smart Radio LTE Failover: System Overview

System Overview The system which we will demonstrate is shown in Fig. 1. Fig. 1 – LTE Failover System SIM Cards In this demonstration, we use SIM cards that support Internet of Things and M2M connectivity. The LTE service provider should be able ...

Smart Radio LTE Failover: Device Configuration

Device Configuration In our example, we assume that we have PC 1 connected to Smart Radio 1 at ETH0, and Smart Radio 1 is connected to LTE Modem 1 from ETH1. Likewise, PC 2 is connected to Smart Radio 2 at ETH0 and Smart Radio 2 is connected to LTE ...

Smart Radio LTE Failover: Hardware Setup

Hardware Setup Fig. 2 shows the hardware setup used in this guide. Fig. 2 – Hardware Setup Of note is that ETH1 should be connected to the LTE Modem. Aside from that, the Smart Radio is setup for typical usage.​

Wearable Smart Radio Field Testing Results: Introduction

Introduction One of the first questions we get is the achievable range with the Wearable Smart Radios. It is not possible to give a simple answer as it depends on a number of different variables. In this document we have compiled some real-world ...